ROLE
Literature Review
User Research
Prototyping
PROJECT TYPE
2015 CHI Student Design Competition
METHODS
Personas & Scenarios
Affinity Walls
User Interviews
Usability Tests
COLLABORATORS
Jumana Almahmoud
Mallory Anderson
Abhishek Dewan
Sofia Gutierrez
PROJECT SUMMARY
Design Prompt: The 2015 CHI Student Design Competition prompt was to design a product, application, technology, or service that enables people who are disconnected from the mainstream to appropriate things and technologies around them.
Challenge: How can technology be leveraged to strengthen the identity of American Indians who are not completely immersed in their culture?
Solution: An online community that connects American Indians through video chat enabled language learning.
BRAINSTORMING & SCOPING: 100 IDEAS IN 20 MINUTES
As a team, we came up with 100 ideas in 20 minutes that matched the design prompt for the CHI Student Design Competition. We discussed ideas that appealed to the group as a whole and refined our options based on the user groups we had access to. We eventually decided to focus on the Native American community.
CONTEXTUAL INQUIRY:
Our team's field and background research was varied and conducted by accessing different sources of information about the American Indian community. These included:
Literature Review
Attending a workshop organized by American Indian rapper and activist Frank Waln
Survey of Facebook and Twitter pages of American Indian community
Watching documentaries on American Indians
5 semi-structured user interviews
AFFINITY WALL
We debriefed after field research and organized our notes on a affinity wall. The major findings from affinity wall process were:
Self-identity and group membership are complicated
There is a distrust of tribal and federal government
Language is a top cultural marker in the community and is difficult to learn.
Social media is a popular communication tool for individuals and tribes.
We created personas and scenarios to define our target audience and clarify the problem we were trying to solve.
We brainstormed initial concept solutions based on the personas and scenarios we developed.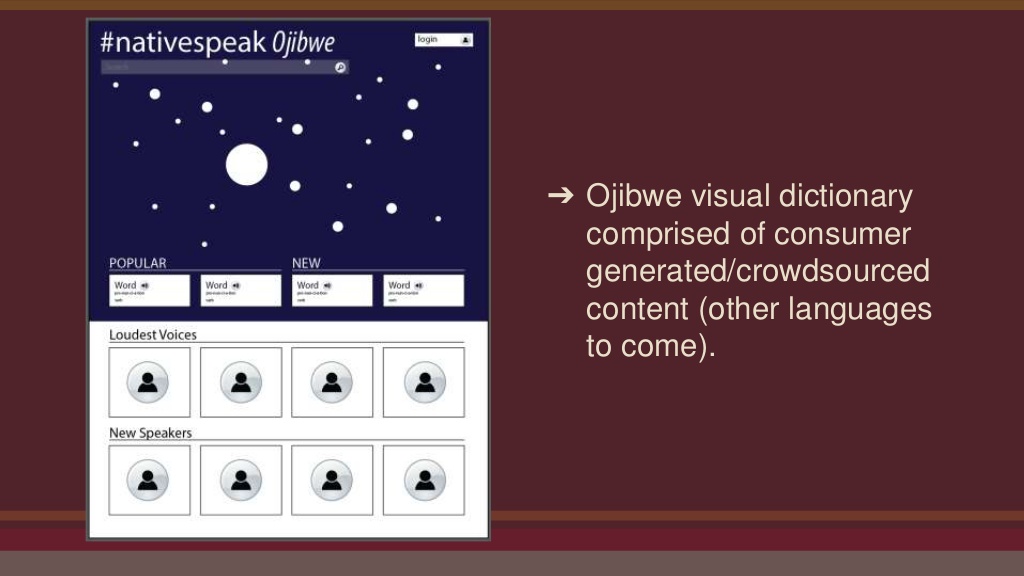 INITIAL CONCEPT
Based on our key findings we worked on an initial concept solution. It was a user generated hashtag dictionary of Ojibwe words generated from social media. We thought this solution would:
Promote the use of Ojibwe, the language of the Chippewa Indians
Foster an inclusive community for sharing American Indian culture
Build on the habits and preferences of our user group
REVISED DESIGN ITERATION
We revised our initial design of a hashtag library based on the feedback that
it had limited engagement
did not facilitate language learning.
Our design iteration was a video chat learning platform where learners and fluent speakers of Ojibwe would be connected with each other.
We modeled our system on in-person programs that paired learners with fluent speakers.
We targeted two types of users, Immersed American Indians and Peripheral American Indians (those that seek a stronger cultural connection).
We created lo-fidelity prototypes of the proposed platform and conducted usability tests with potential users.
We analyzed the findings from usability tests and incorporated changes to our final product design.
We called the platform 'Minowe', Ojibwe for one that speaks well. We incorporated gamification principles for increased engagement.
Learners can practice vocabulary games to learn basics, and then unlock the video chat and scheduling tool after they reach a minimum required competency.
Speakers can contribute to crowd-sourced Ojibwe content and teach learners via video chat.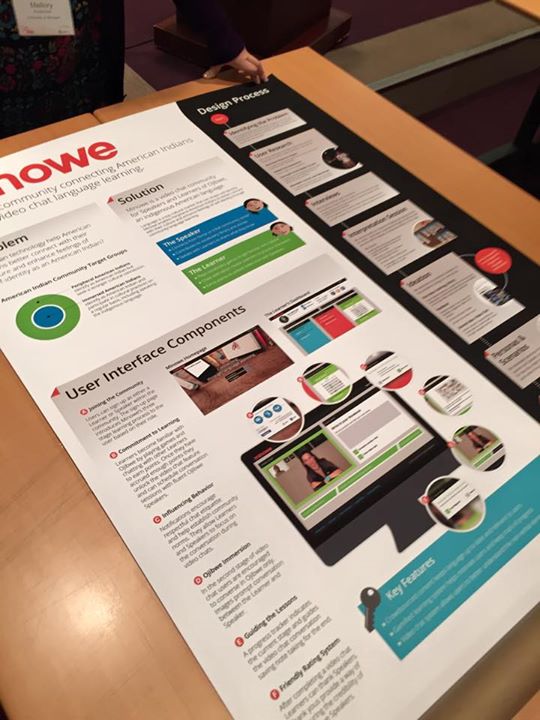 Our team's submission was among the 12 chosen from 70 different submissions across the world to the 2015 CHI Student Design Competition.
We pitched Minowe at:
ACM CHI Conference held in Seoul, South Korea in April 2015.

Pitch competition held by UMSI alongside SXSW in Austin.

UMSI Exposition 2015 and won the Inspiration, Innovation & Impact Award - Honorable Mention.
KEY TAKEAWAYS
Cultural identity is a complex and layered topic and our team was proud of the manner in which we handled the project with great sensitivity at all times.

I had a comprehensive exposure to the complete design process from research to prototyping, testing and design.

It was a great experience to present our design solution and the approach we adopted to solve the problem at different platforms.